You've probably experienced it – maybe just after vacation or holidays – or maybe every Sunday night.  By "it", I mean the stress of the back-to-work jitters. 
The jitters manifest in a sense of dread or racing thoughts or unreasonable anxiety about what is facing you in the morning as you return to work.  It means staring at the ceiling in the middle of the night while picturing your overflowing email box and daily pressures. 
The stress, interrupted sleep and anxiety then create a self-fulfilling prophecy that actually does make it hard to get up in the morning and head into the office.  Like most worries, the back-to-work jitters are troublesome and unhelpful.  In the movie, Fantastic Beasts and Where to Find Them, Newt Skamander said :  
"My philosophy is that worrying means you suffer twice"
Why suffer twice?  Try to find a way to stop worrying and beat the jitters. 
3 Tips for beating the back-to-work jitters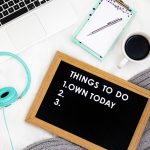 Prep for Monday on Friday: Update your To Do list on Friday, so you already have a plan for Monday morning.  You can rest easier knowing that you are prepared and have your work prioritized.
Sort the chaos on Sunday evening: On Sunday evening, organize as much as you can for Monday morning. Choose your clothes, gather your papers and computer, set up the coffee pot, make lunches, pack backpacks or summer camp bags for the kids and whatever else stresses you out in the morning. This allows you to ease into Monday morning with less chaos.
Adopt a mindfulness practice: Build a mindfulness practice into your Sunday night routine. Some possibilities include meditation, journaling, yoga, exercise, and visualization. Have fun testing some of these out until you find the one that works for you. Practice your chosen one(s) on Sunday night to calm the jitters before they ever start.
Find something that works for you. Reclaim your peaceful night. Beat the back-to-work jitters.
This article was originally posted on Science of Working as "3 tips for beating the back-to-work jitters" on June 19, 2019.