The Natural Way To Deal With Depression..
I didn't know I was suffering from depression and when I realized it, just like many people, I didn't know of any ways of overcoming depression naturally.
I also didn't find any need of visiting a doctor. Why? The fact that most of the prescription made by doctors to treat depression has adverse effects, many people prefer coping with depression. Only a few will seek ways of overcoming depression naturally.
So, how did I get to know that I had a problem? There was a negative impact on my work. I didn't want to work, and if I did, I did things the wrong way until my customers started complaining. At some point, I could not tell the right route to our home. Several times while walking to my house, I passed the road to my house, and for several minutes I kept walking further away.
This was when I realized I had a problem. I didn't know it was depression until I came to know of its signs and symptoms. Just as I have said previously in this piece, I didn't want to seek medical attention and speaking out was the last thing I could do at that time. Overcoming depression naturally was the only thing I could think of.
After several days of coping with depression, I was able to fight it through some effective ways. I will discuss them here.
But before we dive into the signs and symptoms, let's ask ourselves, what is depression?
Depression is a health disorder that affects the mood of a person. It leads to a prolonged feeling of hopelessness, sadness, worthlessness, and despair.
So, What Are The Signs And Symptoms Of Depression?
It's crucial to note that symptoms of depression vary depending on age and persons. How children behave when they are coping with depression is entirely different from how teens act and older adults as well. Therefore, the best way of overcoming depression naturally is highly dependent on the signs and symptoms that are manifesting in the victim.
What Do You Look Out for In Children?
Showing no interest in playing
Having difficulty concentrating especially in school
Unwillingness to go to school
Being sad for a long time
Persistence underweight
Bad temper
What About Teenagers?
Anger and bitterness
Not doing daily cores either at home or in school
Withdrawing from other teens
Missing school regularly for no apparent reason.
Decline in performance
Forgetting quickly
Overlooking self-care like taking a shower, cleaning the house and the like.
Lose of body weight
Use of drugs and alcohol
Sleeping too much or not sleeping at all
Having no interest in eating or eating too much
Aches and pains
And the Older Adults?
Firstly, many people tend to believe that as people age, depression becomes part and parcel of their lives. That, however, is not true. The fact is, age contributes a lot to depression and many old people are coping with depression in their old age. However, even at that age it is wise to look for successful ways of overcoming depression naturally even at that age.
For example; losing the ability to hear clearly due to old age can cause an aging person to feel anxious and eventually get into depression. You see, that's not normal, right? You need to watch out for any symptoms of depression that might show in an older adult.
Here are some of them;
Anxiety and being sad for long
Feeling worthless, hopeless, and helpless, which in most cases is accompanied by negative speech
Having trouble remembering even the smallest of things
Sleeping too much or not sleeping for long hours
Lack of interest in things that were once of great interest and pleasure like watching movies, and having sex.
Eating too little or not eating at all.
Poor concentration and inability to sit still
Withdrawing from friends and the society
Attempting suicide or frequent thought of suicide.
Experiencing body aches and pains without a genuine cause.
Use of drugs and excessive intake of alcohol.
Slow movement and speech
Now you know what to look out for in your loved ones to see if they are depressed. Maybe it could be you who is coping with depression. You see, you cannot deal with a problem without first identifying its source, right? So, what could be the cause of depression in your life or the lives of your loved ones?
What Causes Depression?
Causes of depression are not always clear but there are a few reasons that we will discuss here since they are the most known causes.
Abuse
A person who is a victim of physical abuse by a relative or other people can suffer from depression. A child or teenager who is sure that what awaits him at home after school is physical harassment by a parent or a relative can suffer from depression (clinical depression). Coping with depression for such a person can be very difficult.
Sexual abuse is also among the reported causes of depression. A child, teenage or elderly woman who at one time in life has been raped can battle with depression for the rest of their lives. Not only does it happen outside of marriage, but married couples sometimes suffer from depression due to sexual abuse by their partners.
Illness
Illness such as sexually transmitted disease is one of the major causes of depression. Why? Many people will often isolate a person immediately they learn of their incurable illness. No one wants to go near such people leave alone associating with them.
Disability is also another cause of clinical depression. How? If for example, somebody who was a good football player loses his legs in an accident, it is most likely that the rest of the team players will not associate with him anymore. Why? He is no longer part of their vision and mission since he can't play football any longer.
Such a person is likely to suffer from depression not only for being isolated but also for having difficulties to accept that he cannot walk any more nor participate in that which he so dearly treasured. Such a person should be given advise on the available ways of overcoming depression naturally before he gets into more serious problems.
Conflicts
Most people who have disputes at home, in the office or at work suffer from clinical depression. In fact, most have tried coping with depression until they could not battle it anymore, so they end up committing suicide.
Conflicts, especially between a couple or parents and children, can be a major reason to make you feel unwanted, worthless and hopeless.
For example, children and even parents suffer from depression due to the land issue, and if not careful most people end up committing suicide or killing their loved ones so that they can inherit a portion of land.
Financial Difficulties
Money has been a major cause of depression for many. Anyone who is financially unstable may be tempted to feel like he is inferior, lazy, cursed and the like. It becomes even more depressing even close friends are earning well and living a luxurious life or if your family members depend on you for financial support yet you have no money.
Depressions hit hard on you if at this point you are applying for jobs and there is no positive reply. With bills pilling every day, lack of finances is one of the causes of depression that has made many to kill themselves and others in search of a solution.
Major Life's Events
We all wake up with hopes that each day is going to be a better day than any other in our lives. However, life's events sometimes proof us wrong, and most people are not able to accept the reality.
For example, you may have thought of starting a business, and because of lack of enough capital, you decide to get some financial support from a bank. So you apply for a loan in a nearby bank. However, as time goes by, the business you have started starts to go down, and you have no way to pay that loan.
Thought of what will happen next may throw you into depression and overcoming depression naturally at this time may not even sound logical especially if you had not shared the details with your loved ones.
Other events like fire, drought and political crashes may leave you homeless, disabled or cause loss of lives of the only member you thought could help you through in life. Retiring and loss of a job are other causes of depression.
A breadwinner who loses a job or retires from his job can be a major throwback in a family. This may cause depression not only to the victim but even to those who solely depend on him.
Inheritance
In a family where parents had a problem coping with depression, it is possible that children born in that family will likely suffer from depression. In this case, the reasons mentioned above may not contribute in any way. However, they may also act as a pathway.
Now that you know the causes of depression, how do you overcome depression naturally?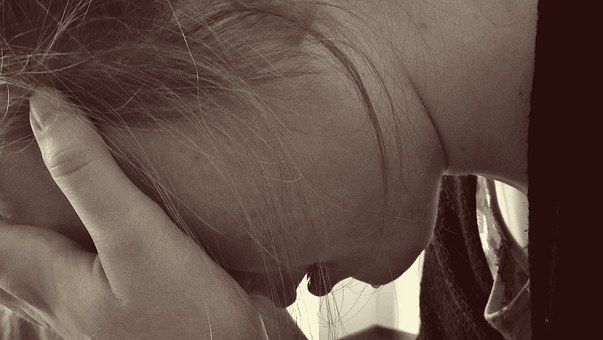 So, How Do You go About Overcoming Depression Naturally? 
Exercising Regularly 
Exercise not only helps you in your overall health but also in dealing and fighting depression naturally. How? Firstly, it elevates your mood and boosts the circulation and flow of oxygen and other nutrients into your brain.
Anytime you engage in cardiovascular activities like running up and down the staircase, the brain releases Brain-derived nootropic Factor, abbreviated as BDNF.
This compound enhances a healthy brain and improves your mind by producing new neurons and neuronal connections. To improve your mood so as to overcome clinical depression, outdoor exercise is advisable.
And no, indoor exercise is not bad, but outdoor exercise help in overcoming depression naturally by increasing your enthusiasm, sense of worth and pleasure as you watch nature. Did you know that lack of Vitamin D is associated with depression? Let me explain. Some research shows that Vitamin D helps in allowing depression by boosting the levels of monoamines.
This chemical makes you feel good thereby improving your mood.
Instead of taking antidepressant medications which are meant to increase levels of monoamines, why not go outdoors to exercise and get exposure to the sunlight? Make it a habit, and you will eventually come out of the depression cell. As a result, you are able to fight depression, anxiety, and fatigue.
Socialize: Get Time to Be With Friends
Silence the depressing voices in your head by listening to the noise outside your head. How? Walk out and have time with friends. Have fun with them. Sit under the tree and enjoy the fresh air as you share your pains with them.
However, be careful whom you hook up with. Ensure that it is a trustworthy friend who can give you a shoulder to ling on. One who can wipe your tears and encourage you when you feel down. One who can hold your hand up the mountain and celebrate your victories.
Socialize with such people. Laugh and eat together, hug and smile to each other. Before you know it, depression will be a matter of past tense in your life. The long days will become shorter, and your strength will renew yet again.
Sleep like a Small Baby
A person who is coping with depression might find it challenging to sleep. However, people with clinical depression behave differently. One will struggle with sleeplessness while another will sleep for long hours.
Nevertheless, many people are said to struggle with insomnia during depression. The good news is that there are several ways that can help you sleep like a baby thereby reducing the hours you stay awake feeling anxious while depression tears you apart.
Calm your mind by switching off every electronic like TV, dress up for the bed, and turn off the lights before going to bed.
Do you still find it difficult to sleep?  Don't worry. Walk out of bed, switch on the light and listen to some music. Make sure the kind of music you are listening to grabs your attention so that you will not be away focusing on other depressing things. Let the music steal your attention. Can you sing along? Great! Go ahead and do that.
You could also decide to grab a book from your library and read a few pages as you calmly rest on your bed. If none of these works, try doing some yoga which is also an effective way of overcoming depression naturally.
Take Some Time And Meditate
Meditation is one way that many don't believe is an effective way of overcoming depression naturally. However, meditation has proven to help people with depression to relax. A daily practice to mediate has proven to work better than drugs and to some extent better than counseling. Research conducted by Johns Hopkins University Researchers shows that depression is helpful to anyone with any mental disorder.
How?
It is during meditation that the molecule responsible for your happiness known as serotonin and relaxing neurotransmitter known as Gamma-Aminobutyric acid increases. At the same time, the level of stress hormone cortisol goes down.
All these contribute to a still and peaceful mind which acts as an effective way of overcoming depression naturally.
It's at this time you start reflecting on your life, accepting things as they are in your life and understanding the repercussions and as a result, you begin to think positively.
Take Control of Your Appetite
As previously discussed in this article, people coping with depression behave differently.  Just as some will not want to leave their beds while others will struggle with insomnia, so will some overeat while others will have no appetite for food whatsoever.
It is good to note that both cases are unhealthy and it's good to take control of both situations. See, if you overeat, you put your health at risk while failure to eat will be the start of another health disaster.
So, what do you do?
Serve yourself small portions of food if you are the kind of people who want to overeat when coping with depression. Alternatively, you can choose to cook small portions of food in case you can't manage the urge for more food.
If you are the kind that entirely has no appetite for food when under depression, try and get some friends to accompany when eating. Call someone you treasure and have a meal together. I'm one kind who never want to eat when I'm anxious or when I'm coping with depression. So, how do I overcome the challenge of loss of appetite? Simple, I will go out to a restaurant and order a delicious meal. Occasionally, I will order the kind of meal I rarely cook in my house.
This way, I get to enjoy the meal while the noise from the strangers in the restaurant silences the depressing voices within me.
Apart from managing your appetite, it is good to watch out what you eat when dealing with depression. Avoid processed foods. It is scientifically recommended to eat foods that can boost your mood such as Omega -3 fatty acids.
Some of the study conducted reveals that Omega-3 fatty acids lower the symptoms of depression as well as boosting the functionality of the brain.
Also, eat foods that will also boost your memory. Why? People coping with depression have a tendency of forgetting things fast.  In my article, 6 Health Benefits of Honey You Should Know, you will see that honey helps boost your memory. This is another effective way of overcoming depression naturally by fighting some of its common effects.
Speak Out
Oh yes, this is not easy at all especially for anyone like me. I hate speaking out my issues with people especially strangers. But did you know that sharing your problems is one great way to relief and freedom? Take it this way. You have a debt, and a warning has been given to you to pay that money before the end of the day.
You only have half of the money, and you know sharing your challenge with your friend will be fruitful. Would you keep quiet and wait for the imminent danger or would you run to your friend for help? Of course, you would go to your friend.
What happens after you get the money you needed from your friend? Do you continue worrying about the threats you had received or would you rejoice knowing that you are now free from trouble?
You see, speaking out what is troubling you is one way of solving the problem. Some friends are meant to be in our lives for such times. They will give you their attention, and where possible, they will come up with a solution to the issues that are causing depression in your life.
In some cases, it is good to find a counselor who can guide you on how to overcome that depressing situation.
Conclusion
Overcoming depression naturally is not easy, but it is achievable. However, you must be willing to come out of it for you to overcome it naturally.
While the cases of committing suicide have been on the rise in the past few months, that is not an effective way of overcoming depression which is one of the primary cause of suicide cases.
Do everything you can to try out the ways various ways of overcoming depression naturally as discussed in this article. Involve a friend in this journey, and you will finally appreciate for having given done it.